Do Realtors Lie about Other Offers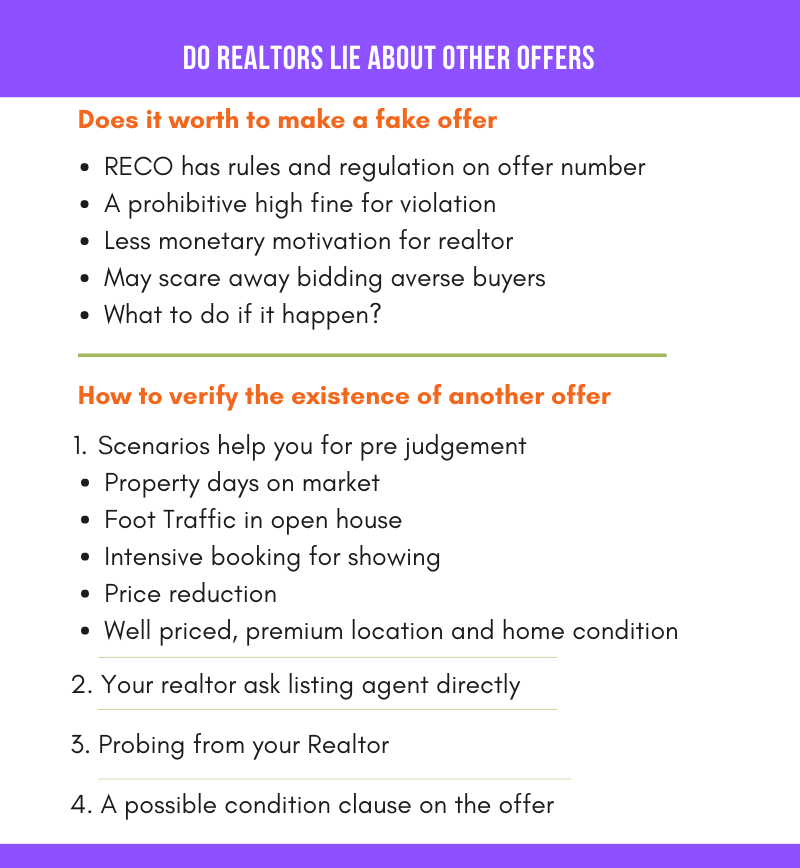 Being told that there is another offer on a house may reshape the buyers' perspective of the property. They may walk away to avoid a bidding war, or increase the offer price and remove the condition to put themself in an unfavorable position. Some buyers may raise the concern on the ethics of the listing agent to invent a phantom offer or even a cooked offer.
Do realtors lie about other offers? Does it worth making a fake offer?
RECO has requirements to notify the potential buyers how many offers are registered on a property, but not to disclose the amount and conditions of those offers.
The fine to agents for any violation is prohibitively high.
Besides, the lucrative impact of the price increase on the commission marginally motivates the agent to lie.
Lastly, it may scare away some buyers who are bidding averse.
But in the real world, everything could happen. This fake offer would not be an exception and the real estate agent can lie about other offers.
Then how to verify the existence of another offer on a house?
I The scenarios help you make a pre judgment
Days on Market: if the property has unusually longer days on market at a less attractive location and home condition when you send an offer, you are notified of the existence of the other offer. You may want to do more due diligence.
If it happens to have an open house, the foot traffic may be a good indicator. More traffic may have a higher chance to generate multiple offers.
If the property is set up for an offer presentation date previously and then the price is reduced, you may not be sure whether the purpose of lowering the price is to drive up demand or it is simply a cloud of smoke. You may want to gather more information.
If the property is priced well to engineer multiple offers, the booking for showing is intensive, and it is nicely located with a good condition, you may have a higher chance to be challenged by the other offers
II Ask your realtor to talk with the listing brokerage and listing realtor directly for written proof if there are no online notifications.
III An experienced realtor would probe and read between lines and have a higher chance to find out if something unusual or fishy during the discussion with the listing realtor
IV Insert a condition in your offer that the condition is based on the existence of another offer with, if available, listing the salesperson and brokerage name of that offer. However, if you are really into a bidding war, any additional conditions may put you in an unfavorable situation.