Sell a House without a Realtor: The Best Solution?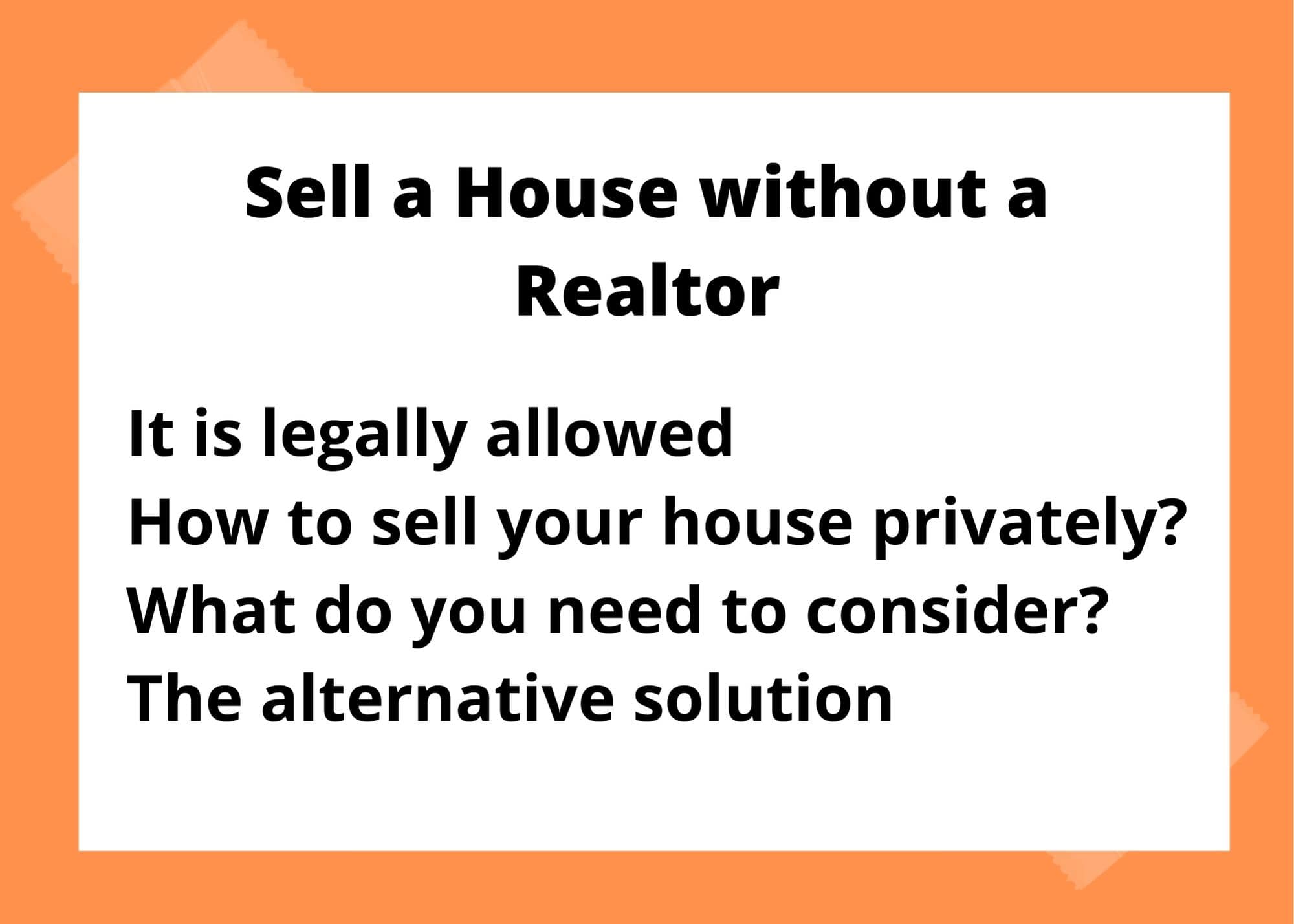 Can I sell my house without a realtor?
You certainly can sell your home by yourself. As a homeowner, it is legal for you to sell your home privately in Ontario. But it becomes unlawful if you get paid by helping others to sell a property.
How to list on MLS without a realtor in Ontario?
To broaden your market coverage, you would need to list your house in MLS, which is accessible only to realtors. Therefore, you can't put a listing on MLS without a realtor. But it doesn't mean that you have to pay for the full service for a mere listing, there are real estate brokerages offering limited listing services only.
How to sell your house privately in Ontario?
The process of selling a house privately is quite similar to the one with a realtor. You would need home preparation, marketing, showing homes, offer review and negotiation, and the final closing. When you list your house, real estate disclosure rules require you to disclose the latent material facts, which decidedly impact the buyer's decision of house purchase.
We have comprehensive guides and topics available to address those home selling related issues and processes such as how to prepare the paperwork, judge the time to sell, whether you need home staging and renovations, how to set up the right listing price, how to choose the best among multiple offers, etc. Powered with that knowledge, you probably could do well to sell your house on your own.
For Sale By Owner definitely has benefits to the home seller. It can save you the realtor fee. The whole process is under your own control. You don't need to spend time choosing the right agent, and you don't need to mull over what they say and their intention. However, you would also need to consider the challenges below when you determine to move on your own.
How to make the right home preparation?
Home preparation for home selling may involve paperwork, staging, renovation, etc.
Can you provide the appropriate data of your home to homebuyers? Do you know what kind of data needs to be disclosed? The incorrect information may lead to future legal issues.
How to get the best return on staging and renovation? Not all investments could be recouped. Which investment has the higher return, what do you need to avoid, and how to make the right judgment call for those situations in between.
Most of the staging and renovation would be done by a third party and may not be necessary depending on your situation. For your best interest, you may want to gather some knowledge on home staging and renovation before your investment.
Marketing and Advertising
You certainly could make the lawn sign, create your own social media channel, or put your listing on aggregator websites.
But the market exposure raises a red flag since those channels are still considered marginal. You may have to list on MLS, which would present your home to a much larger market.
However, to list on MLS requires a realtor's access and assistance.
You may still have to pay the buyer's agent commission
Another key consideration on MLS is the inevitability of paying the buyer realtor's commission, ranging from 2%~2.5%.
The chance that you close a deal with a buyer unrepresented by a realtor is quite slim.
Though RECO has requirements for agents to bring their clients to any suitable properties, in reality, how can you convince yourself that the agent will bring clients to your home without any remuneration?
How to set an appropriate price
Setting a good home pricing strategy requires a lot of knowledge, research, and an appropriate methodology. It may impact considerably on how fast and how much you can sell your home. When entering the market, selling or buying first may be a consideration depending on your situation.
Arranging appointments and showing homes
Are you comfortable with the numerous phone calls if you don't have an automatic online booking system?
Are you willing to answer those pre-showing questions repeatedly?
Are you planning to open the door for every viewing?
Can you arrange the open house yourselves if you consider it a good selling avenue?
How to review the offer, negotiate and pick up the right one
Terms, clauses, and conditions in the offer may challenge you a lot if you are not professionally trained and experienced.
Negotiating with a buyer's realtor may leave your money on the table and cause unfavorable conditions.
The highest price may not necessarily be the best choice if it insinuates the risk of being a potential deal killer.
You probably still need a lawyer for closing
Closing is not a simple step and requires expert assistance.
The choices available
For Sale By Owner
If your target audience is within your network, and the selling price is not a leading concern, it may be a good option.
For Sale By Owner with MLS
If you are a regular seller, you need market exposure to attract as many buyers as possible. You would need to consider paying a flat fee to a realtor in order to list in MLS.
Possibly another alternative for you
What if:
Are you ready for this alternative option? Please check selling plan details of our $1000+optional services.