Tips for Home Selling: 4 Steps to Sell Fast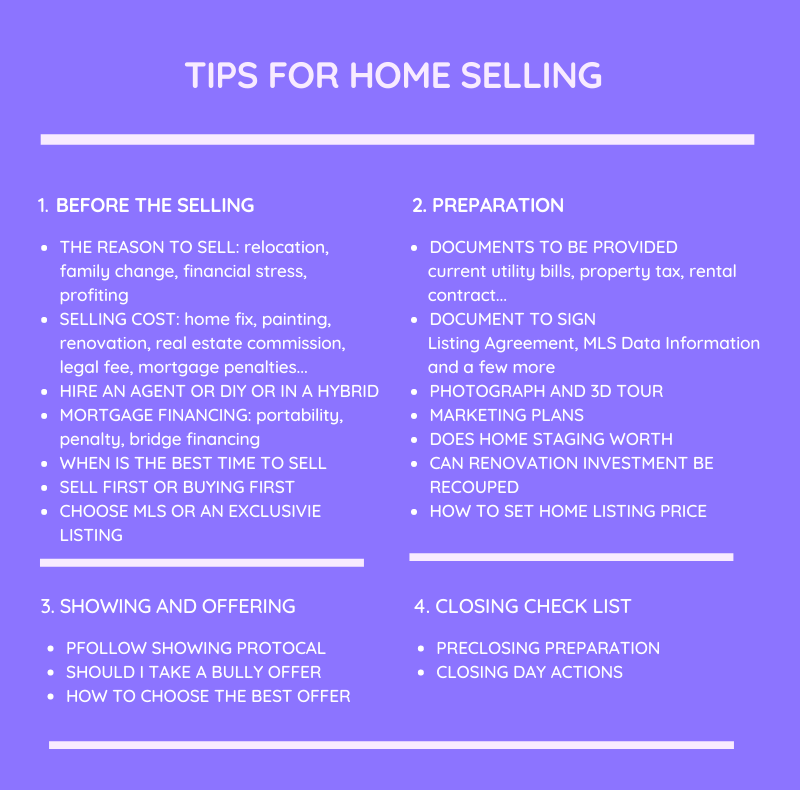 I Before the selling
Reasons to sell
There are many reasons why homeowners want to sell their property in Ontario. For example, moving out for a new job, financial stress, having hit the investment target, family changes, etc. Those reasons may exert an influence on the strategy to sell.
Hire an Agent or DIY or in a Hybrid
It depends on your realty knowledge and experience, and your willingness. You can choose homes for sale by owner, i.e. sell your house privately. You can also hire a realtor for selling a house in Ontario. Realsav offers a unique package to lower your cost to sell a home while avoiding the disadvantage of selling without a realtor.
Sell or buy first
If you plan to buy a new home at the same time and you need the existing sale for downpayment or closing, you may have to think it over whether you buy first or sell first. It may have a large impact on you financially or mentally.
When to sell
When is the best time into the market, is there any pattern to follow, what are the factors you need to know?
Cost to sell a house
To calculate your net proceed of home selling in Toronto, a home seller may encounter the following costs:
Home preparation cost: Cleaning, minor fixes, painting, finish
Pre-listing home inspection if needed $300~$500

Status certificate for a condo only if needed: $100 for regular, a couple of more hundred add-ons for expediency.

Home Staging if required: $2500~$3000 on average.

Real estate commission: listing agent commission $2000~2% of the home selling price, less than $1000 if For Sale By Owner but you still require the MLS promotion. Buyer agent commission: most commonly 2%~2.5% of the home sale price
Legal fees: lawyer fees to sell a house are cheaper than that of buying a house with a bit less than $1000 on average.

Mortgage penalties and bridging financing cost if any

Moving cost: varies by DIY or a moving company.

All the above cost is subject to 13% HST
Mortgage Financing
Porting your mortgage
You may take your existing mortgage, along with its current rate and terms, from the current home to the new home if you're doing both transactions at the same time.
Mortgage portability may save you the penalty since the application fee is usually lower. You may also gain possible interest saving if there is a rate increase.
Mortgage Penalties
It may cost you 3 months mortgage
An assumable mortgage
When the interest rates have arisen, the buyer may want to take over the seller's mortgage by assuming the original loan.
The mortgage assumption may save you the mortgage penalty and may be a venue to attract the buyer.
But you need to ensure your new mortgage if you happen to buy a home.
Bridge financing
You may need temporary financing to bridge the gap between the time your existing home is sold and your new property is purchased. Please consult your mortgage specialist on the qualification and the total amount you can borrow.
II Preparation
Documents to be provided
The realtor may need a list of documents to verify and to fill in MLS, such documents include
Your current utility bills, property tax, survey, and permit if you have,
Floor plans, proof of the renovations or improvements,
Rental contracts including water tank and warranties
Ongoing home-related problems or past issues that need to be disclosed.
Maintenance fees, any correspondence on a special assessment, and pending lawsuits are required in case your property is a condo.
Working with a REALTOR FORM810 (Required by RECO to illustrate the relationship among the brokerage, agent, client and customer )
Listing Agreement FORM200 (the agreement between you and the listing brokerage)
MLS Data Information Form 290 or Form 291 for Condo (required to list your property to MLS)
Agreement of Purchase & Sale FORM100 or FORM101 for Condo (offer from the buyers)
Confirmation of Cooperation (commission agreement between your agent and the buyer's agent)
Seller's Direction Re: Property/Offers FORM244 (your preferences on offer notification)
Lockbox Authorization Form
Open House Authorization Form
Listing price
Setting the listing price strategy is one of the crucial components of the selling process. Joined with factors, it impacts how fast you can sell and how much you sell.
Home staging
Home staging facilitates home selling, but at a cost. Gather the basic knowledge to make a rational decision.
Home renovations
Not all home renovations make sense for investment purposes. You certainly would spend your money on those with the best return and on those necessities.
Marketing
MLS, Open House, Online and social media promotion
Photograph and 3D Tour
Professional Photo would arouse the potential buyer's interest and attract more bookings for showing.
3D tour would present the buyers with a better view of the place and may increase the efficiency by screening out the obviously mismatching buyers.
III Showing and Offering
Showing homes
It is a normal practice that the sellers are not around while an agent is showing homes.
The showing time would be flexible.
If there is a tenant, the showing coordination would be preferably smooth.
You also would keep your place clean and safe
Depersonalize any items if you could
Keep your private and valuable items in an appropriate place.
Offers on a house
Your realtor will walk you through the details of the offer delivery method (in person or email).
The offer types (regular, bully or multiple offers),
Your option of negotiation (accept, counter, reject)
How to weigh the conditions, price, and your circumstances.
IV Closing Checklist for Seller
Once the offer is chosen, you have to wait for the condition fulfilled, and the possible renegotiation for minor things from the buyer.
You have a list of things to do before and on closing day, with the help of the real estate lawyer. Such as reviewing documents from the lawyer, cleaning properties, address changes, etc.
please review the complete checklist for details.